Since I posted my weekend yesterday, I decided to combine yesterday's makeup free pic with today's...I got nothing creative to say about today's picture. :) I do love the outfit though. I am really enjoying the shorts with tights trend. It is so much more practical than a skirt!!
So Monday - I was trying to copy this look from GAP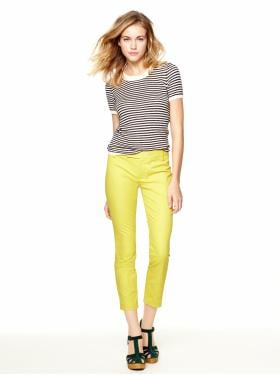 I figured I have similar pieces in my 30 for 30 - why not give it a shot? I did, however, add my boots instead of peep toes because a) I am not a 6 foot 100 lb model so I need something to balance the hips and b) I don't have any peep toe booties in my 30 items anyway!
Added accessory: Bracelet - Betsey Johnson
Today's outfit is not a copycat look, although it did come to me in my dreams. That's right folks, I am now dreaming about outfit combinations. My subconscious is so fashion forward!
Added accessory: necklace - F21
My son gives this necklace two thumbs up. He thought it was delicious. :)